Prioritizing your tax dollars
By Representative J. Paul Brown (R-Ignacio)
Last week, the House of Representatives passed the state budget for the upcoming fiscal year that starts July 1st, approving more than $27 billion dollars in state spending. As a representative and a taxpayer, I carefully consider how we prioritize tax dollars – every Colorado family must prioritize their spending, and the state government should be no different. While Colorado has a lot of priorities, everything starts with a quality education for our children and safe roadways, and that was my focus throughout the budget process.
The House devotes a full week of the legislative session to reviewing every state department's budget and debating the most prudent use of tax dollars. This year, after the state departments were funded, there was an additional $5.75 million dollars earmarked for legislators to spend on new programs. However, with so many schools still feeling the effects of the recession and our roads in such poor condition, I argued we need to fund our most pressing needs before creating new programs.
During debate, I, along with other Republicans in the House, made numerous attempts to amend the budget to redirect that earmarked money to helping Colorado's schools and improving its roads and bridges. Additionally, I offered an amendment to transfer year-end excess revenue to these critical areas. Unfortunately Democrats, who have a slight majority in the House, voted against every Republican attempt to prioritize education and transportation funding, and instead chose to protect those earmarked funds for new programs. Even though this will be the largest budget in state history, it was disappointing Democrats were still unwilling to give up their own pet projects for more books in the classroom and safer roads.
We have a little over a month left in this session, and I will continue to fight for responsible spending and prioritizing tax dollars. The budget now heads to the Senate for further debate, but please feel free to contact me if you have thoughts or questions about the process. You can keep up with all of our caucus updates by following us on Twitter and Instagram, liking us on Facebook or visiting COHouseGOP.com and our caucus YouTube page. 
Sincerely,
J. Paul Brown
Capitol Pictures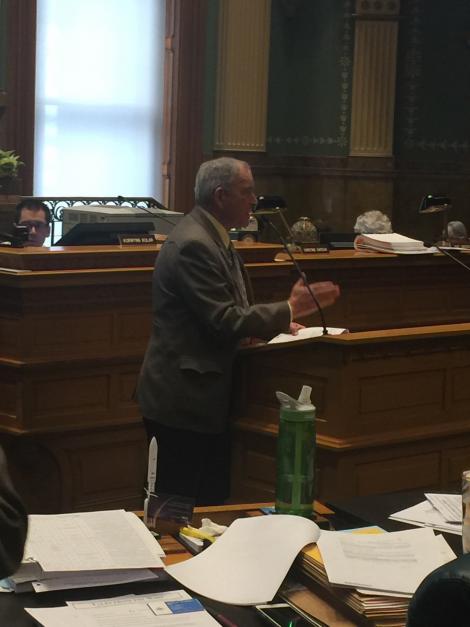 Representative J. Paul Brown (R-Ignacio) offering budget amendments to redirect earmarked funds to transportation and education. Democrats killed Representative Brown's amendments.
Representative Kathleen Conti (R-Littleton) takes a brief break from budget deliberations to meet with students from the Shepard of the Valley Christian School's second grade class.
Representative Jim Wilson (R-Salida) with Make-A-Wish recipients, Colorado Director of the Make-A-Wish Foundation Teresa Davis Pustztai, and Senator Randy Baumgardner.